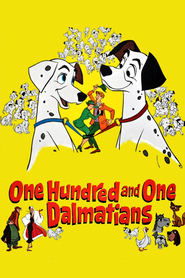 One Hundred and One Dalmatians – Τα 101 Σκυλιά της Δαλματίας
το σκυλίσιο χοροπήδημα του αιώνα.
Jan. 25, 1961
USA
79 Min.
G
Synopsis
Η Κρουέλα ντε Βιλ, η πιο γνωστή κακιά της Disney, θέλει να φτιάξει τη μεγαλύτερη και καλύτερη γούνα και γι αυτό το λόγο απαγάγει όλα τα σκυλιά Δαλματίας του Λονδίνου και μαζί 15 κουτάβια από την οικογένεια του Πόνγκο και της Περντίτα. Δείτε τι γίνεται στην ιστορία μας καθώς ο Πόνγκο θα κάνει τα αδύνατα δυνατά για να σώσει τους μικρούς τετράποδους φίλους μας.
When a litter of dalmatian puppies are abducted by the minions of Cruella De Vil, the parents must find them before she uses them for a diabolical fashion statement.
Original title
One Hundred and One Dalmatians
IMDb Rating 7.2 135,769 votes
TMDb Rating 6.9