Spy Kids 3-D: Game Over
3rd Mission. 3rd Dimension.
Jul. 25, 2003
USA
84 Min.
PG
Synopsis
Οι μίνι πράκτορες αυτή τη φορά εκτοξεύονται σε ένα εντελώς νέο επίπεδο – την Τρίτη διάσταση. Ταξιδεύοντας μέσα στην εικονική πραγματικότητα ενός νέου, τρισδιάστατου βιντεοπαιχνιδιού το οποίο σχεδιάστηκε για να τους παγιδεύσει και από όπου τα απίστευτα γραφικά και τα τρομακτικά πλάσματα εισβάλουν κυριολεκτικά στον αληθινό μας κόσμο…
Carmen's caught in a virtual reality game designed by the Kids' new nemesis, the Toymaker. It's up to Juni to save his sister, and ultimately the world.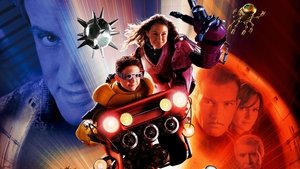 Original title
Spy Kids 3-D: Game Over
IMDb Rating 4.2 48,761 votes
TMDb Rating 5 1,366 votes