Synopsis
Ένας έφηβος Native American που ονομάζεται Manu ξοδεύει το καλοκαίρι με τον παππού του ψηλά στα βουνά της ερήμου. Όπως προσεγγίζει μια τρομακτική μοίρα, ο Manu πρέπει να αγκαλιάσει το αξιοθαύμαστο του πεπρωμένο και να αναλάβει μια απίστευτη ευθύνη εάν αυτός και η οικογένειά του πρόκειται να ευδοκιμήσουν και να επιβιώσουν.
A Native American teenager named Manu spends the summer with his grandfather high in the desert mountains. As a terrifying doom approaches, Manu must embrace his remarkable destiny and take on an incredible responsibility if he and his family are to thrive and survive.
Για Την ώρα ειναι Auto Translate μόλις Βγουν Υπότιτλοι θα Αντικατασταθούν.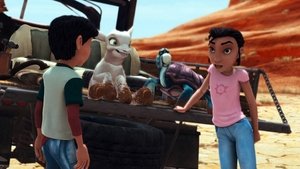 Original title
The Legend of Secret Pass
IMDb Rating 5.0 315 votes
TMDb Rating 4 3 votes